Ustekinumab
---
Ustekinumab (UST) is a monoclonal antibody that belongs to a newly developed class of biological anti-cytokine medications, and is sold under the brand name Stelara. UST can be used to treat psoriasis (including psoriatic arthritis when it affects the skin) and was also approved to treat Crohn's disease in September 2016 by the Food and Drug Administration (FDA). It is directed against interleukin 12 (IL-12) and interleukin 23 (IL-23), naturally occurring proteins that regulate the immune system and immune-mediated inflammatory disorders.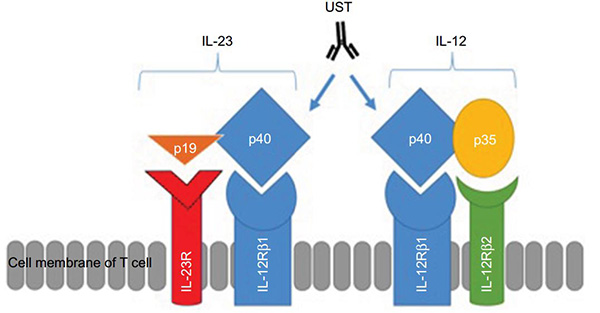 Figure 1. Structures of IL-12 and IL-23, their receptors and the site of action of UST. (Kotze, P G; et.al. 2018)
IL-12 and IL-23 are major players in activating adaptive immunity. Targeting this proinflammatory cytokine pathway has become an area of therapeutic exploration in autoimmune diseases, including psoriasis, psoriatic arthritis, and Crohn's disease. IL-12 is composed of both p40 and p35 subunits, while IL-23 is composed of p40 and p19 subunits. IL-12 receptor is composed of two subunits, such as IL-12Rβ1 and IL-12Rβ2. IL-23 receptor is composed of two subunits, such as IL-12Rβ1 and IL-23R. UST can regulate the immune system and immune-mediated inflammatory disorders, because UST can inhibit IL-12 and IL-23 and prevent the common p40 subunit of IL-12 and IL-23 from interacting with their common receptor IL-12Rβ1, and this can lead to subsequent neutralization of human IL-12- and IL-23-mediated cell signaling, cytokine production and cell activation. UST takes part in the important step of a consequent reduction in the Crohn's disease by regulating the immune system and immune-mediated inflammatory disorders
Ustekinumab Analysis at Creative Proteomics
At Creative Proteomics, we have long-standing experience to support the development of ustekinumab biosimilars. To support the rigorous development of ustekinumab biosimilars, we can provide binding assays, bioassays, as well as physicochemical and structural properties analysis.
Table1. Ustekinumab biosimilars analysis services at Creative Proteomics
Ustekinumab binding assays

Ustekinumab IL-12/IL-23 binding assays
Ustekinumab C1q assays

Ustekinumab bioassays

Ustekinumab IL-12 neutralisation bioassay

Ustekinumab physicochemical analysis          

Molecular weight and size
Liquid chromatographic patterns
Isoform pattern
Extinction coefficient, protein concentration analysis
Electrophoretic pattern
Spectroscopic profiles

Ustekinumab structural analysis

Carbohydrate structure
Amino acid sequence
Amino acid composition
Terminal amino acid sequence
Peptide mapping
Sulfhydryl groups and disulphide bridges
Our Advantages
We provide a wide range of information about ustekinumab including protein structure, protein modifications, and quantification, etc.
We can provide services to characterize ustekinumab biosimilars in line with ICH Q6B with our professional platform.
Our analysis program can combine with other techniques of our expertise in the field, so the comprehensive, high-quality and high-efficient reports can be easily obtained.
Our expert scientists have developed a suite of off-the-shelf assay packages to study for a range of biosimilar molecules and an integrated service to support biosimilar development. We also continually develop new methods to support biosimilar characterization and comparability. If you have any questions or specific needs, please do not hesitate to contact us.
Reference:
1. Kotze, P G; et.al. Clinical utility of ustekinumab in Crohn's disease. Journal of Inflammation Research. 2018, 11: 35–47.
Our customer service representatives are available 24 hours a day, from Monday to Sunday.
Inquiry