Trastuzumab
---
Trastuzumab, sold under the brand name Herceptin, is a monoclonal antibody targeting HER2 (human epidermal growth factor receptor 2), inducing an immune-mediated response that causes internalization and downregulation of HER2. It already has been approved to treat multiple oncologic conditions, especially, HER2-positive breast cancer and HER2-positive metastatic gastric cancer.
The HER2 pathway promotes cell growth and division when it functions normally; however, when the HER2 is overexpressed, cell growth accelerates beyond its normal limits. In some types of cancer, the pathway is exploited to promote rapid cell growth and proliferation and hence tumor formation. HER2 is overexpressed in approximately 20–25% of breast cancers, and trastuzumab, by binding to domain IV of extracellular domain of HER2 and triggering its tumor-suppressive actions, can disrupt HER2 receptor homodimerization and heterodimerization, abrogate oncogenic cellular signaling, and downregulate the angiogenesis and DNA repair pathways.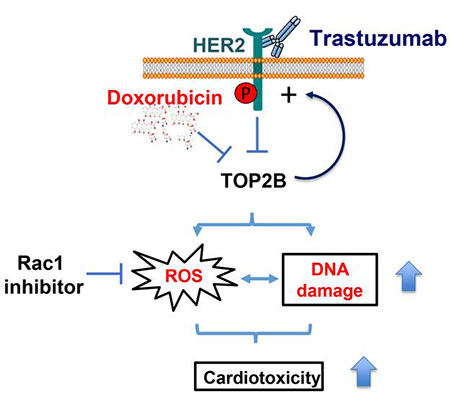 Figure1. One target for the cardiotoxicity of trastuzumab. (Mohan, N; et.al. 2018)
A large number of trastuzumab variants and biosimilars are marketed. The first trastuzumab biosimilar was approved by the Ministry of Health of the Russian Federation, in January 2015. And trastuzumab-dkst (Ogivri, Mylan GmbH) was approved by the US FDA on 1 Dec 2017.
Trastuzumab Biosimilar Analysis at Creative Proteomics
We have long-standing experience to support the development of trastuzumab biosimilars. We are dedicated to serving customers with high-efficiency assays and high-quality data. With extensive experience, we can provide trastuzumab bioassays and physicochemical structural analysis.
Table1. Trastuzumab biosimilars analysis services at Creative Proteomics
Trastuzumab binding assays

Trastuzumab Her2 binding assays
Trastuzumab Fc-Gamma receptor assays
Trastuzumab FcRn assays
Trastuzumab C1q assays

Trastuzumab bioassays

Trastuzumab complement dependent cytotoxicity assay
Trastuzumab antibody dependent cellular cytotoxicity assay
Trastuzumab antibody dependent cellular phagocytosis assay

Trastuzumab physicochemical analysis

Molecular weight and size
Liquid chromatographic pattern
Isoform pattern
Extinction coefficient, protein concentration analysis
Electrophoretic pattern
Spectroscopic profiles

Trastuzumab structural analysis

Carbohydrate structure
Amino acid sequence
Amino acid composition
Terminal amino acid sequence
Peptide mapping
Sulfhydryl groups and disulphide bridges
Our Advantages
Creative Proteomics has extensive experience in the performing a wide range of analyses for trastuzumab biosimilar.
Creative Proteomics has set up an analysis program in accordance with ICH Q6B guidelines, including method setup, validation of customer-specific methods, and release testing to support the analytical development of trastuzumab biosimilars or biobetters.
At Creative Proteomics, experienced staff with professional knowledge can provide high-quality and high-efficient analysis of different variants of trastuzumab originators, biosimilars and biobetters. If you have any questions or specific needs, please do not hesitate to contact us.
Reference:
1. Mohan, N; et.al. Trastuzumab-mediated cardiotoxicity: current understanding, challenges, and frontiers. Antibody Therapeutics, 2018, 1(1): 13–17.
Our customer service representatives are available 24 hours a day, from Monday to Sunday.
Inquiry