Sialic Acid Identification and Quantitation
---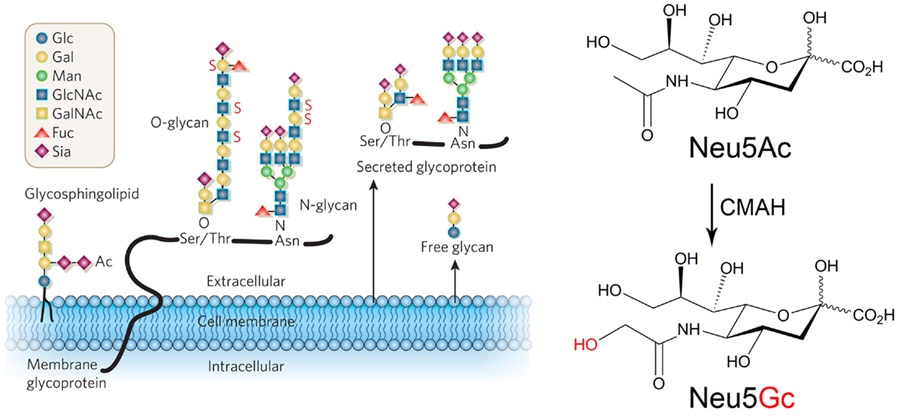 Sialic acids are a family of nine-carbon acidic monosaccharides that occur naturally at the end of sugar chains attached to membrane glycoproteins and secreted glycoproteins. In the human body, the highest concentration of sialic acid (as N-acetylneuraminic acid) occurs in the brain where it participates as an integral part of ganglioside structure in synaptogenesis and neural transmission.
As an important motif, sialic acid is a common component of glycan molecules and its presence can result in altered protein function. The identification and quantitation of N-acetylneuraminic acid (NANA or Neu5Ac) and N-glycolylneuraminic acid (NGNA or Neu5Gc), the two most common sialic acids on recombinant glycoproteins including monoclonal antibodies, are determined for the protein of interest.
The typical workflow of sialic acid analysis, at first, the sialic acids from glycoproteins would be released with a mild acid hydrolysis, and isolated; and then the collected sialic acids would be labeled with DMB(4, 5-Methylenedioxy-1, 2-phenylenediamine dihydrochloride); the DMB labeled sialic acids are separated by RP-HPLC, and quantified with fluorescence detection; the amount of each monosaccharide in the sample is measured by comparing the response in the sample to a standard curve of each sialic acid.
With reproducible analytical proposal, and experienced analysts, Creative Proteomics can help you to identify and quantify the sialic acids released from protein fractions of interest.
Our customer service representatives are available 24 hours a day, from Monday to Sunday.
Inquiry