Protein Aggregation Analysis
---
Protein-based pharmaceuticals are one of the fastest growing group therapeutic agents. Compared with small molecule drugs, recombinant protein therapeutics require more strict control in bio-synthesis, purification and storage steps. In addition, regulatory authorities and relevant industry guidelines (ICH Q6B) recommend to monitor changes in the product as a result of manufacture and/or storage, including protein aggregate.
What Is Protein Aggregation?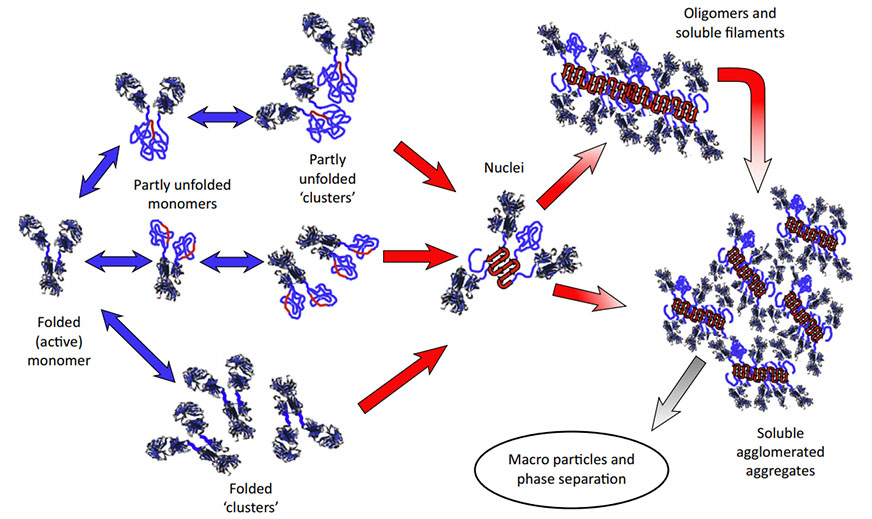 Figure 1. Schematic diagram illustrating multiple non-native aggregation pathways for a multidomain protein (Roberts C J., 2014)
Protein aggregation, sometimes also known as non-native aggregation, refers to the process by which protein molecules assemble into stable complexes composed of two or more proteins. The aggregation of protein therapeutics is the most common and troubling manifestation during R & D, because protein aggregates usually exhibit reduced or no biological activities since the medical biologics are functional only in the native state; more importantly, they might show stronger immunogenicity/cellular toxicities. Protein aggreation may occur during multiple stages of the manufacturing process of protein therapeutics, including fermentation, purification, formulation and storage.
Given the instability and degradation, there is the high tendency of macromolecules to aggregate under the processing and storage conditions. So, the protein aggregation must be controlled strictly to a satisfactorily low level before commercialized.
Protein Aggregation Analysis at Creative Proteomics
At Creative Proteomics, we have developed a professional platform for protein aggregation analysis that contains various techniques, including but not limited to:
Mass spectrometry (MS). MS is an analytical technique that measures the mass-to-charge (m/z) ration of charged patricles, which can be used for protein aggregation, especially matrix-assisted laser desorption/ionization time-of-flight mass spectrometry (MALDI-TOF MS).
Size exclusion HPLC (SE-HPLC). It is an essential analytical tool to detect and analysis soluble protein aggregates. The separation mechanism is based on the protein shape and size. Proteins of different sizes elute at different rates through the column; the larger the protein particles are, the earlier they are eluted.
Micro-Flow Imaging (MFI). MFI, a sensitive method, combines the direct imaging capabilities of digital microscopy with the precise control of microfluidics. It can be used to discriminate between protein aggregates and other particulates.
Dynamic light scattering (DLS). DLS is often used to measure proteins ranging from microns to nanometers.
Asymmetrical flow field folw fractionation (AF4). This method detects and characterizates protein aggregates by size through flow retention. It has broad size range (1 nm-few μm) without stationary. In addition, it can be combined with serial online detectors.
With our professional platform, we can provide various information by combining with our expertise in the field of protein structure-function to help you find solutions to problems along the product development. The information include but are not limited:
Secondary structure
Tertiary structure
Thermodynamic stability
Colloidal stability
Aggregation state
Activity
Binding
Our Advantages
The size of protein aggregates can be heterogeneous, ranging from few nanometers up to over 100 μm. We can offer selected methods for each size range under cGMP including full qualification and validation of the instruments.
Our services are able to be applied to various biopharmaceutivals, such as antibodies, vaccines, oligonucleotides, oligosaccharides, and so on.
We have extensive experience to analyze protein aggregates by using multiple technologies. Based on professional knowledge and experienced staff, Creative Proteomics provides high-resolution 2-DE for separating all kinds of proteins. Our ordering procedure is as follows. If you have any questions or specific needs, please don't hesitate to contact us.

Reference:
1. Roberts C J. Therapeutic protein aggregation: mechanisms, design, and control. Trends in biotechnology, 2014, 32(7): 372-380.
Our customer service representatives are available 24 hours a day, from Monday to Sunday.
Inquiry