Melamine Analysis Service
---
Melamine, a by-product of the coal industry, is rich in nitrogen and most commonly found in the form of white crystals. It is an organic chemical compound with a trimer of cyanamide, frequently used for the production of coatings, kitchenware, laminates, commercial filters, and plastics. Besides, melamine can be used in the manufacturing of food packaging.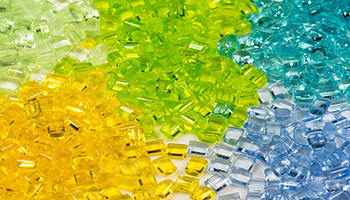 The addition of this compound increases the nitrogen content of milk and therefore increases the apparent amount of protein in standard measurement procedures. Therefore, this has led to melamine illegal addition to feed and food for alteration as the high nitrogen content. However, the Food and Drug Administration (FDA) does not approve melamine for direct addition to animal feeds or human food marketed. In FDA's risk assessment, that products with melamine contamination above the levels noted may put people at risk of conditions such as kidney failure and kidney stones, and of death. Therefore, we need many analytical methods for melamine analysis to ensure the food quality and our health.
Melamine Analysis at Creative Proteomics
Creative Proteomics can provide melamine identification and quantification analysis, and there are melamine and various structurally related compounds that can be analyzed in our services, including but not limited to:
Melamine (MEL)
Cyanuric acid (CYA)
Ammeline (AML)
Ammelide (AMD)
Cyromazine (CYRO)
At Creative Proteomics, there are many analytical methods recommended by the Food and Drug Administration (FDA) available for melamine testing, screening, and quantitative analysis, including but not limited to:
Fourier transform infrared (FTIR) microscopy
Surface-enhanced raman spectroscopy (SERS)
Gas chromatography - mass spectrometry (GC-MS)
GC-MS/MS
High-performance liquid chromatography -tandem mass spectrometry (HPLC-MS/MS)
HPLC- diode array detection (DAD)
HPLC- ultraviolet absorption (UV)
Our Advantages
MEL, CYA, AML, AMD, and CYRO, or some combination of these related compounds can be analyzed at low detection levels by using validated analytical methods.
Many advanced technologies and equipment are available for melamine analysis, such as the HPLC, GC-MS/MS.
We can analyze samples in different matrices, such as processed foods, animal feeds, wheat gluten, rice protein concentrate, corn gluten, and so on.
Creative Proteomics has years of experience on melamine analysis, so we can offer melamine detection and analysis services to agricultural firms, food companies, food importers, retailers, foodstuffs, manufacturers of ingredients and other businesses. If you have any questions or other requirements, please feel free to contact us. We are looking forward to cooperating with you.
Reference:
1. Lu Y, et al. A Review of Methods for Detecting Melamine in Food Samples. Crit Rev Anal Chem. 2017, 47(1):51-66.
Our customer service representatives are available 24 hours a day, from Monday to Sunday.
Inquiry