Infliximab
---
Tumor necrosis factor alpha (TNF-α) is a pro-inflammatory cytokine known to have a key role in the pathogenesis of chronic immune-mediated diseases. TNF-α inhibitors can be administered either as monotherapy or in combination with other anti-inflammatory or disease-modifying anti-rheumatic drugs to treat chronic immune-mediated diseases. And when the TNF-α is binding with the receptor, they can form a large complex (complex 1) by recruiting others factors. Some researches have shown that infliximab works against TNF-α, which can inhibit or prevent the effective binding of TNF-α with its receptors. Additionally, infliximab can break down cells involved in the inflammatory process.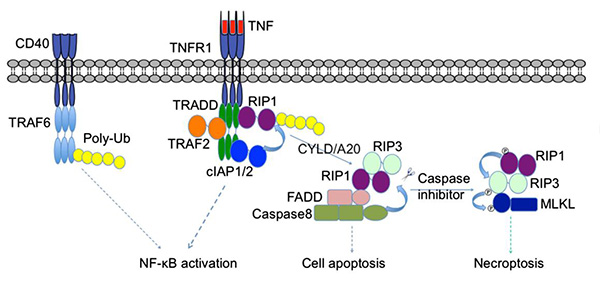 Figure1. Overview of the signaling pathways induced by TNFR. (Jing, H; et.al. 2015)
What Is Infliximab?
Infliximab is a chimeric monoclonal antibody biologic drug combination of mouse and human antibody amino acid sequences. And infliximab is an artificial antibody originally developed in mice as a mouse antibody and it can be used to treat autoimmune diseases. The mouse common domains are replaced with similar human antibody domains, because humans have immune reactions to mouse proteins. Infliximab was approved for the treatment of psoriasis, ankylosing spondylitis, Crohn's disease, rheumatoid arthritis, ulcerative colitis by the US FDA.
In the market, there are several biosimilars about infliximab already. Firstly, the Inflectra and Remsima were submitted by Hospira and Celltrion Healthcare respectively at 2013. And Inflectra (infliximab-dyyb) are approved by the FDA at 2016. At 2017, Renflexis (infliximab-abda) is also approved by the FDA. Flixabi is another biosimilar of infliximab which has been approved.
Infliximab Analysis at Creative Proteomics
At Creative Proteomics, we have long-standing experience to support the development of analysis of infliximab biosimilars. We can offer a range of development and testing services to support monoclonal antibody manufacture. With our professional platform, Creative Proteomics provides services to characterize infliximab biosimilars in line with ICH Q6B, including but not limited to:
Table1. Infliximab biosimilars services
Infliximab binding assays

Infliximab TNF-Alpha Binding Assays
Infliximab Fc-Gamma Receptor Assays
Infliximab FcRn Assays
Infliximab C1q Assays

Infliximab bioassays

Infliximab TNF-Alpha Neutralisation of cell death
Infliximab TNF-Alpha Neutralisation of apoptosis
Infliximab TNF-Alpha Neutralisation of adhesion molecules
Infliximab complement dependent cytotoxicity (CDC)
Infliximab antibody dependent cytotoxicity (ADCC)

Infliximab physicochemical analysis

Identity and Purity
Molecular Weight
Isoform Pattern
Liquid Chromatographic Patterns
Aggregation

Infliximab structural analysis

Primary Amino Acid Sequence
Amino Acid Composition
Terminal Amino Acid Sequence
Peptide Map
Disulfide Bridges
Carbohydrate Structure
Secondary and Tertiary Structure
Our expert scientists have developed a suite of off-the-shelf assay packages to study for a range of biosimilar molecules and an integrated service to support biosimilar development. We also continually develop new methods to support biosimilar characterization and comparability. Our ordering procedure is as follows. If you have any questions or specific needs, please do not hesitate to contact us.
References:
1. Roman, I.D, et al. Infliximab therapy reverses the increase of allograft inflammatory factor-1 in serum and colonic mucosa of rats with inflammatory bowel disease. Biomarkers. 2017, 22 (2), 133-144.
2. Jing, H; et.al. Structural basis of cell apoptosis and necrosis in TNFR signaling. Apoptosis.2015, 20, 210-215.
3. Giuseppe, M, et.al. Infection risk associated with anti-TNF-α agents: a review. Expert Opin. Drug Saf. 2015 14(4), 571-582.
Our customer service representatives are available 24 hours a day, from Monday to Sunday.
Inquiry