Factor VIII
---
Factor VIII is a heavily glycosylated heterodimeric plasma protein consisting of a heavy (domains A1-A2-B) and light chain (domains A3-C1-C2) and is mainly synthesized in hepatocytes, but also in endothelial cells, kidneys and lymphatic tissue. Moreover, factor VIII is an essential blood coagulation protein (2332 amino acids, molecular weight of 293 kDa) present in the bloodstream in association with von Willebrand factor (vWF) in a non-covalent complex. And the vWF protects factor VIII from premature proteolysis and transfers it to sites of endothelial injury. And the active form of factor VIII can be given to hemophiliacs to restore hemostasis, concentrated from donated blood plasma, or alternatively recombinant FVIIa. Antibody formation to factor VIII can also be a major concern for patients receiving therapy against bleeding.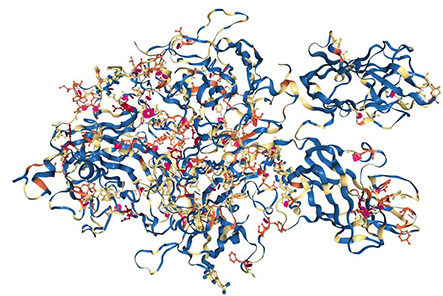 Figure1. The 3D structure of Factor VIII (Ngo, J.C, et al. 2008)
Factor VIII Analysis at Creative Proteomics
At Creative Proteomics, we have long-standing experience to support the development of the factor VIII biosimilars. With our professional platform, Creative Proteomics provides services to characterize factor VIII biosimilars in line with ICH Q6B.
Table1. Factor VIII biosimilars analysis services at Creative Proteomics
Quantity and extinction coefficient

Determination of protein content
Amino acid composition
Determination of extinction coefficient

Structural characterization and confirmation– amino acid sequence

Peptide mapping
Deamidation level
Methionine oxidation level
Tyrosine sulfation level
Disulfide bridge analysis
N/C terminal sequencing
Total molecular weight of each subunit

Glycosylation analysis

Monosaccharide composition
Sialic acid content
N- and O-Glycan mapping
Linkage analysis
N- and O-Glycosylation site determination

Physicochemical properties

Isoform pattern (IEF)
Liquid chromatographic pattern
Spectroscopic profiles
Spectroscopic profiles
Aggregation
To deliver consistent and high-quality data with cost-efficiency, Creative Proteomics has experienced scientists and advanced techniques for factor VIII analysis, including but not limited to:
Size exclusion chromatography-multi angle light scattering (SEC-MALS)
Matrix assisted laser desorption ionization-in source decay (MALDI-ISD)
Matrix assisted laser desorption ionizationmass spectrometry (MALDI-MS)
Gas chromatography-mass spectrometry (GC-MS)
Ultraviolet–visible spectroscopy
Ion exchange chromatography (IEX)
Circular dichroism (CD) spectroscopy
Our Advantages
A wide range of analyses can be applied for factor VIII biosimilars analysis, such as structural characterization and confirmation, physicochemical properties, etc.
Advanced techniques are available for factor VIII analysis.
Our analysis program can combine with other techniques of our expertise in the field to obtain professional analysis of Factor VIII.
Creative Proteomics has professional experts to help you design the best strategies for factor VIII biosimilars analysis. Based on professional knowledge and experienced staff, Creative Proteomics provides a wide range of information about Factor VIII. If you have any questions or specific needs, please do not hesitate to contact us.
References:
1. Mazurkiewicz-Pisarek A, et al. The factor VIII protein and its function. Acta Biochim Pol. 2016, 63(1):11-16.
2. Ngo, J.C, et al. Crystal structure of human factor VIII: implications for the formation of the factor IXa-factor VIIIa complex. Structure. 2008; 4:597-606.
Our customer service representatives are available 24 hours a day, from Monday to Sunday.
Inquiry