Erythropoietin
---
Erythropoietin (EPO) is mainly used for the treatment of anemia resulting from different diseases such as chronic kidney disease, cancer or other critical illnesses. Its main function is to promote red blood cells by protecting them from apoptosis. Besides, Erythropoietin is capable of promoting endothelial transdifferentiation stem cells of Apical Papilla (SCAP), which may be of clinical value in the treatment of ischemic disorders.
What Is Erythropoietin?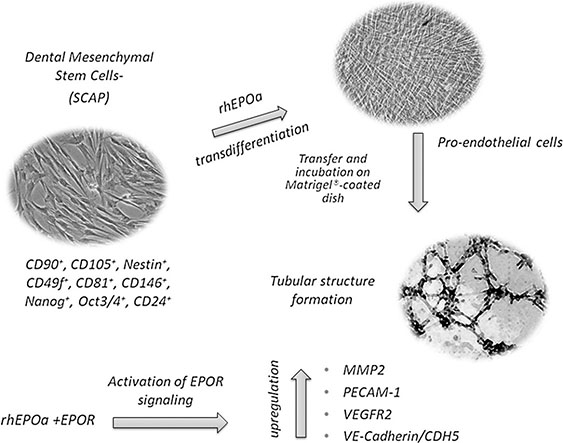 Figure 1. Erythropoietin promotes endothelial transdifferentiation of stem cells of the SCAP (Koutsoumpairs, A.; et al. 2018)
Erythropoietin, a 165 amino acid protein with a high glycosylation ratio of about 40% by weight, is mainly synthesized in the kidney and has also been observed in brain and in the eye. The glycosylation consists of N- (three sites) and O-glycans (one site). The glycans are highly branched and carry sialic acids at the branch ends. These sialic acids are an important regulator for the serum half-life and thus for the efficacy of the drug. Secreted into the blood plasma, EPO binds to the receptor of EPO to promote red blood cell production and erythropoiesis in the bone marrow. High expression levels of EPO have been observed in diabetic retinopathy and ocular hypertension. Variants of this protein have effects on various potential brain injuries, antiapoptotic functions in several tissue types, which have been used in the treatment of anemia and to enhance the efficacy of cancer therapies.
Most EPO drug products are recombinantly produced in CHO-cells, BHK or a human fibrosarcoma cell line (HT-1080 derivative). Amgen marketed the first recombinant EPO in 1989 under the trade names Epogen or Epoetin. Meanwhile, a large number of EPO variants and biosimilars are marketed, such as Darbepoetin, which carries additional glycosylation sites and order to improve the pharmacodynamics.
Erythropoietin Analysis at Creative Proteomics
At Creative Proteomics, we have long-standing experience in the analysis of different variants of EPO originators, biosimilars and biobetters. To support the development of EPO biosimilars or biobetters, Creative Proteomics has set up an analysis program in accordance with ICB Q6B guidelines, including method setup, validation of customer-specific methods, and release testing.
With our professional platform, we can provide various information about EPO, which can combine with our expertise in the field of protein structure-function to help you find solutions to problems along the product development. This information includes but is not limited to:
Protein quantification
Protein primary structure
Analysis of N- and O-glycosylation
Sialic acid content
Protein modifications
Our Advantages
We provide a wide range of information about EPO with our professional platform, which includes protein structure, protein modifications, and quantification, etc.
Our analysis program can combine with other techniques of our expertise in the field, so the professional analysis of EPO can be easily obtained.
We have extensive experience in the analysis of different variants of EPO originators, biosimilars and biobetters. Based on professional knowledge and experienced staff, Creative Proteomics provides a wide range of information about EPO. If you have any questions or specific needs, please do not hesitate to contact us.
Reference:
1. Koutsoumpairs, A.; et al. Erythropoietin (rhEPOa) promotes endothelial transdifferentiation of stem cells of the apical papilla (SCAP). Archives of Oral Biology. 2018; 96:96-103.
Our customer service representatives are available 24 hours a day, from Monday to Sunday.
Inquiry