Eculizumab
---
Eculizumab (trade name is Soliris) is a humanized monoclonal antibody. It is used to treat the rare blood disorder paroxysmal nocturnal haemoglobinuria (PNH, a genetically derived disease) that leads to haemolysis of patients. Eculizumab was approved by the United States Food and Drug Administration (FDA) in 2007 for the treatment of PNH, and it was developed, manufactured, and marketed by Connecticut-based Alexion Pharmaceuticals.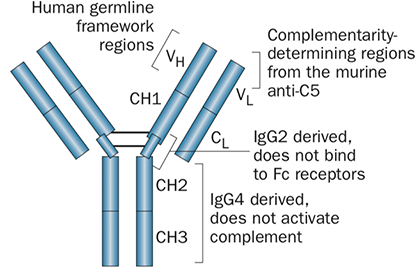 Figure 1. Structure of Eculizumab
Eculizumab is composed of two 448 amino acid heavy chains and two 214 amino acid light chains, with a molecular weight of approximately 148 kDa. It contains human constant regions from human IgG2 sequences, human IgG4 sequences, and murine complementarity-determining regions grafted onto the human framework light-and heavy-chain variable regions. Eculizumab inhibits the cleavage of C5 by the C5 convertase into C5a, a potent anaphylatoxin with prothrombotic and proinflammatory properties, and C5b, which then forms the terminal complement complex C5b-9 that also has prothrombotic and proinflammatory effects. Both C5a and C5b-9 cause the complement-mediated events that are characteristic of PNH and aHUS (atypical haemolytic uraemic syndrome). By binding to the human complement protein C5, it blocks the cleavage of the protein itself which leads to the inhibition of the complement-mediated intravascular haemolysis.
Eculizumab Biosimilars Analysis at Creative Proteomics
To support the analytical development of Eculizumab biosimilars or biobetters, Creative Proteomics has set up an analysis program.
Table 1. Eculizumab Biosimilars Analysis of Creative Proteomics
Services
Analysis Program
Protein quantification

Absolute quantification (AQUA) service
Semi-quantitative proteomics analysis service
Parallel Reaction Monitoring (PRM)

Characterization of the glycosylation pattern

N-linked glycosylation
Linked glycosylation
Sialic acid content
Monosaccharide content

Protein Modification

Deamidation
Oxidation
Glycosylation
Phosphorylation
Acetylation
Pyroglutamate formation
Creative Proteomics has a team of scientists specialized in biosimilars analysis to support your research and project needs at the location of your choice. Our mission as your partner is to deliver high-quality image and reliable data accurately and efficiently to further optimize the biosimilars analysis process. We look forward to working with you in the future.
Reference:
1. Zuber J, Fakhouri F. Use of eculizumab for atypical haemolytic uraemic syndrome and C3 glomerulopathies. Nature Reviews Nephrology, 2012, 8(11),643-657.
Our customer service representatives are available 24 hours a day, from Monday to Sunday.
Inquiry