Denosumab
---
Denosumab (trade name Prolia) can be used for the prevention and treatment of bone metastases, which is a novel, fully human IgG2 monoclonal antibody. Chemically, it consists of 2 heavy and 2 light chains. Each light chain consists of 215 amino acids. Each heavy chain consists of 448 amino acids with 4 intramolecular disulfides. It is specific to receptor activator of nuclear factor kappa-B ligand (RANKL) and suppresses bone resorption markers in patients with a variety of metastatic tumors.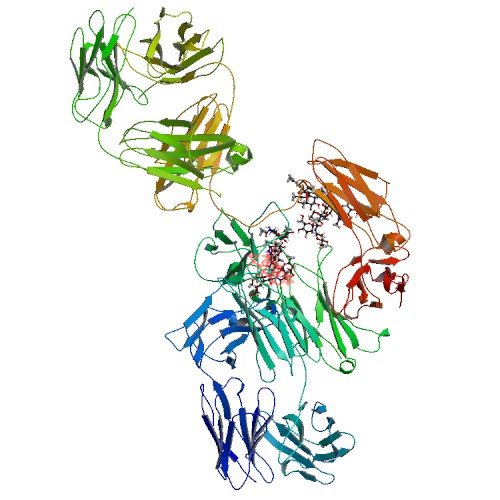 Figure 1.  Denosumab Structure
Denosumab injection is a widely recognized RANK ligand inhibitor to treat osteoporosis in men and women (osteoporosis, thinning, weakening and fragmentation of bone). Denosumab injection is also used to treat bone loss in men with prostate cancer and in women with breast cancer who are receiving certain treatments that increase their risk for fractures. Denosumab injection is used to reduce fractures from certain types of cancer that began in another part of the body but has spread to the bones. It is also used in adults and some adolescents to treat giant cell tumor of bone (GCTB, a type of bone tumor) that cannot be treated with surgery or if surgery is not possible.
Denosumab Biosimilars Analysis at Creative Proteomics
Creative Proteomics has considerable experience in the analysis of different originator batches as well as biosimilars of Denosumab. We have established an analytical program as follows:
Table 1. Denosumab Biosimilars Analysis of Creative Proteomics
Services
Analysis Program
Structural Characterization

Primary (de novo) Amino Acid Sequence
Amino Acid Composition
Terminal Amino Acid Sequence
Peptide Map
Disulfide Bridges
Carbohydrate Structure
Secondary and Tertiary Structure Analysis

Physicochemical Characterization

Identity and Purity
Molecular Weight
Isoform Pattern
Liquid Chromatographic Patterns
Aggregation

Protein Modification

Deamidation
Oxidation
Glycosylation
Phosphorylation
N- and C- terminal truncation
Acetylation
Creative Proteomics has professional experts to help you design the best strategies for the whole process of biosimilars analysis and provide high-quality analytical services. Moreover, we would love to design studies to address clients' specific requirements. If you have any questions, please feel free to contact us.
Reference:
1. Cummings S R. Denosumab for prevention of fractures in postmenopausal women with osteoporosis. Obstetrical & Gynecological Survey, 2009, 64(8),756-765.
Our customer service representatives are available 24 hours a day, from Monday to Sunday.
Inquiry