Characterization of Therapeutical Protein Oxidation
---
Protein oxidation is a subject that has been receiving attention of the scientific community since the beginning of the last century. Oxidation is one of the major chemical degradation pathways for protein pharmaceuticals. This chemical modification can occur on methionine, cysteine, histidine, tryptophan and tyrosine, of which methionine is most readily oxidized due to their high reactivity with various reactive oxygen species during production, purification, preparation, transportation and storage. Treatment of solid and liquid preparations can be induced by pollution oxidants, catalyzed by the presence of transition metal ions and induced by light.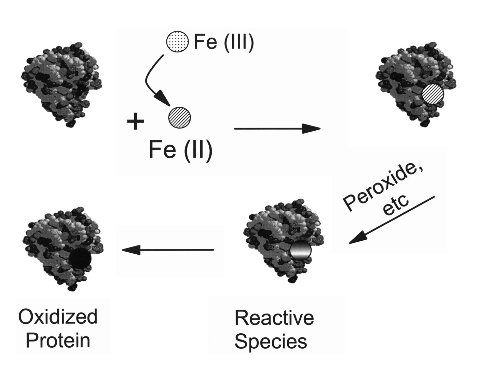 Figure 1. Metal catalyzed oxidation of proteins is a site-specific process. (ER, Stadtman; et al. 2010.)
Oxidation of methionine to the sulfoxide form is of distinct interest and significance in biopharmaceutical industry as it occurs on a wide variety of proteins and often reduces or even eliminates biological activity of the protein therapeutics, causes aggregation, increases immunogenicity and encourages degradation. As a result, monitoring protein oxidation becomes critical in biopharmaceutical industry for manufacturing, characterization, and quality control (QC).
Protein Oxidation Analysis at Creative Proteomics
Creative Proteomics can provide robust and sensitive liquid chromatograph-mass spectrometer (LC-MS) based characterization of therapeutical protein oxidation service under the bottom-up strategy. The target protein can be transformed to free peptides by enzymatic cleavage (different proteases can be utilized for comprehensive coverage of the tested protein), and the generated peptides can be separated with LC, for consequent MS analysis to achieve high sensitivity and peptide identification with accurate mass measurements, through database searching.
At Creative Proteomics, we have developed a professional platform for protein oxidation analysis that contains various techniques, including but not limited to:
Amino acid analysis
Capillary electrophoresis (CE)
High Performance Liquid Chromatography Ultraviolet (HPLC-UV)
Mass spectrometry (MS)
At Creative Proteomics, our experienced technical support is ready to provide you with professional assistance in the development of protein drugs and in the characterization of therapeutical protein oxidation. If you have any questions or specific needs, don't hesitate to contact us.
References:
1. André, M, N.; et al. Characterization of in vitro protein oxidation using mass spectrometry: A time course study of oxidized alpha-amylase. Archives of Biochemistry and Biophysics. 2013, 503(1): 23-31.
2. ER, Stadtman; RL, Levine. Protein Oxidation. Annals of the New York Academy of Sciences. 2010, 899 (1):191-208.
Our customer service representatives are available 24 hours a day, from Monday to Sunday.
Inquiry