Characterization of Protein Biosimilar
---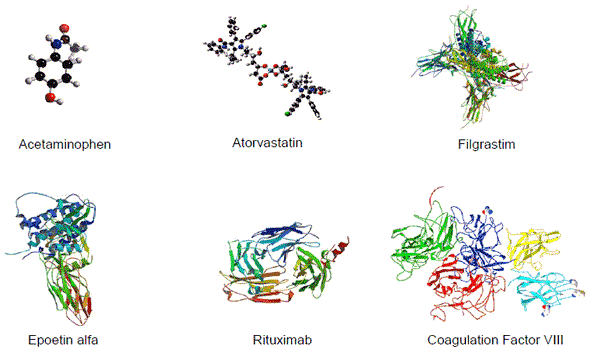 A biosimilar, also known as follow-on biologic or subsequent entry biologic, is a biologic medical product which is a modified copy of an original product. Biosimilars are officially approved versions of original products, and only allowed to manufacture when the original one's patent expires.
Different from the small-molecule drugs, macromolecular biologics generally exhibit high molecular complexity, and may be sensitive to tiny changes in manufacturing processes. Medical regulation authorities such as European Medicines Agency (EMA), Food and Drug Administration (FDA), and Health Canada, hold their own guidance for demonstration of the similarity of two biological products in terms of safety and efficacy. Like the me-too & me-better drugs, preclinical and clinical studies need to be performed to demonstrate safety, purity, and potency compared with reference biologics. But before the animal and clinical trials, the protein biologics themselves need to be characterized according to the guidance document ICH Q6B, which provides a uniform set of internationally accepted specifications for the characterization of biotechnological and biological products for approval.
Although the ICH Q6B document itself does not recommend any specific test procedure or specific acceptance criteria, it do suggest technical approaches, to provide the following information for biotechnological or biological products:
1 Structural Characterization
Amino Acid Sequence
Amino Acid Composition
N/C-terminal Sequencing
Peptide Mapping
Disulfide bond Analysis
Glycosylation Analysis

2 Physicochemical Properties
Molecular Weight(MW) & Size
Isoform Pattern
Extinction Coefficient(EC)
Electrophoretic Patterns
Liquid Chromatographic Patterns
Spectroscopic Profiles

3 Process- & Product-related Impurities
Host Cell Proteins
Truncated Forms
Post-translational Modifications(PTM)
Aggregates

Creative Proteomics is able to provides a full range of analytical services mentioned above, to characterize your biopharmaceutical products. All the analytical proposals are designed and performed in a GMP compliant laboratory using various validated techniques for regulatory requirements.
Our customer service representatives are available 24 hours a day, from Monday to Sunday.
Inquiry