Bioanalysis of Proteins
---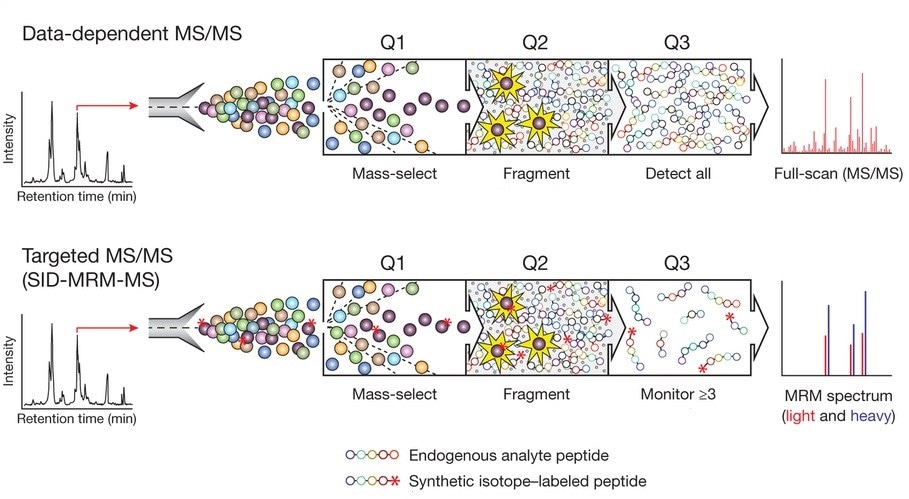 Equipped with advanced proteomics facilities, Creative Proteomics can provide bioanalytical support to our customers based on the Shotgun/Bottom-Up strategy, from simple amino acid analysis, identification of purified protein, protein/peptide sequencing, to characterization of the post-translational modifications, and protein-protein interactions. Besides the discovery proteomics above, Creative Proteomics can also help you to compare the abudance of specific proteins in complicated biological samples of different origins, and even determine the absolute level of target proteins in various biological samples. Taking signature peptides as surrogates of parent proteins, it's easy for us to separate and quantify the peptide concentration with LC-MS/MS based quantitative proteomic methods, according to ICH guidelines, which proves to be quite promising alternative to ELISA.
The bioanalytical services Creative Proteomics can provide, are as below:
Amino Acid Analysis
Global Protein Identification
Determination of Protein/Peptide Mass
Quantitative Proteomics
Protein/Peptide Mapping
Protein/Peptide Sequencing
MRM-based Quantification
Protein-Protein Interactions
Determination of Protein Turnover Rate
Characterization of Post-Translational Modifications
Protein identification is almost the most widely used analysis technique in the proteomics field, and our tech staff are experienced in sample preparation and enrichment techniques. Creative Proteomics can provide protein/peptide identification services based on the shotgun/bottom-up method. The proteins in your biological samples would be digested to fragments by enzymatic cleavage, and then analyzed by liquid chromatography and hybrid mass spectrometry (LC-LTQ/Orbitrap). The generated peptides would be separated with nanoLC system, and then ionized peptides would be analyzed (MS Spectra) and scanned (MS/MS Spectra)after various dissociation technique (CID, HCD, ETD and ECD). The parent proteins, and potential PTMs (modification types and sites) can be identified by the MS & MS/MS spectra, which would be compared with theoretical MS & MS/MS spectra with the aid of professional bioinformatic tools, to list the detected proteins and PTMs with high confidence. In order to improve sensitivity and robustness, target proteins/peptides may need to be enriched with specific preparation procedures, such as immunopricipitation.
For quantitative proteomics, no matter the labeled technical solutions (like SILAC, TMT and iTRAQ) and label free strategy, Creative Proteomics have developed reliable and reproducible approaches for comparative proteomics, which can satisfy the needs of academic and industial study in your lab.
Our customer service representatives are available 24 hours a day, from Monday to Sunday.
Inquiry