Bevacizumab
---
Bevacizumab, sold under the trade name Avastin, is a humanized monoclonal antibody, which can be used to treat a number of types of cancers and a specific eye disease. For cancer, it is given by slow injection into a vein and used for colon cancer, lung cancer, glioblastoma, and renal-cell carcinoma. For age-related macular degeneration, it is given by injection into the eye. It is designed to block a protein called vascular endothelial growth factor (VEGF). Normal cells make VEGF, but some cancer cells make too much VEGF. Blocking VEGF may prevent the growth of new blood vessels, including normal blood vessels and blood vessels that feed tumors.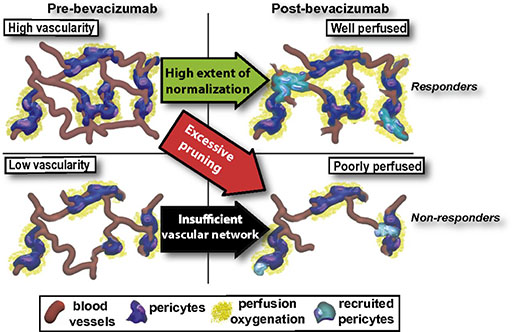 Figure 1. A schematic of the proposed mechanism of action of benefit from antiangiogenic therapy. (Sara M. Tolaney, 2015)
Bevacizumab was originally derived from a mouse monoclonal antibody generated from mice immunized with the 165-residue-form of recombinant human vascular endothelial growth factor. It was humanized by retaining the binding region and replacing the rest with a human full light chain and a human truncated IgG1 heavy chain, with some other substitutions. Bevacizumab was approved for medical use in the United States in 2004. Bevacizumab comes off-patent in 2018 (extended expiry) and already many companies are developing biosimilar versions.
Bevacizumab Biosimilars Analysis at Creative Proteomics
Creative Proteomics is experienced in the analysis of different variants of Avastin originators and biosimilars. To support the development of Avastin biosimilars or biobetters, Creative Proteomics has set up an analysis program, including:
Table 1. Bevacizumab Biosimilars Analysis at Creative Proteomics
Services
Analysis Program
Protein quantification

Quantitative amino acid assay (AAA)
Extinction coefficient determination
Mass spectrometry-based quantification by multiple reaction monitoring (MRM)

Structural characterization and confirmation

Amino acid sequence
Amino acid composition
N- & C-terminal sequencing
Peptide mapping
S-S bridge analysis
Glycosylation analysis
Post-translational modifications (PTMs)

Physicochemical properties

Molecular weight or size
Isoform pattern
Extinction coefficient
Electrophoretic patterns
Liquid chromatographic patterns
Spectroscopic profiles

Process and product-related impurities

Host cell proteins
Truncated forms
Protein aggregation
The research of bevacizumab biosimilars has great value and Creative Proteomics is the best partner for biosimilars analysis to optimize the biosimilars development and increase success rate. If you have any questions about biosimilars analysis, please feel free to contact us.
Reference:
1. Sara M. Tolaney. Role of vascular density and normalization in response to neoadjuvant bevacizumab and chemotherapy in breast cancer patients Abatacept: a t-cell co-stimulation modulator for the treatment of rheumatoid arthritis. Proc Natl Acad Sci U S A, 2015,112(46):14325-14330.
Our customer service representatives are available 24 hours a day, from Monday to Sunday.
Inquiry