Beer Sulphur Compounds Analysis
---
Beer is an extremely complex mixture in an aqueous environment and has more than 3,000 different compounds. Thus, it has been a considerable challenge for brewers to maintain beer quality throughout its lifetime. While it is inevitable that chemical changes will occur in beer with the passage of time, it is the formation of flavor-active components which is of immediate concern to an overview of beer shelf life stability. And sulfur dioxide is the most important factor in prolonging the shelf life, and delaying flavor staling of beer.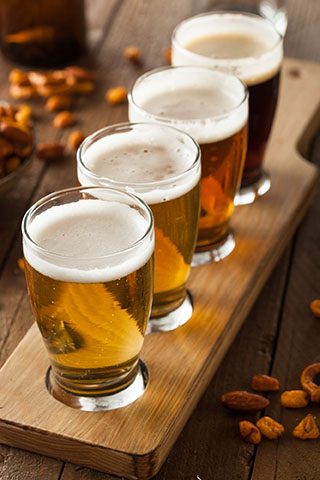 However, nowadays, it is found that certain sensitive individuals exhibiting adverse reactions to sulfites residues in foods. The use of sulfites in food products became an issue of concern to both consumer and regulatory agencies. Further investigations into this potential health hazard led agencies to promulgate regulations concerning the usage and labeling of sulfites. By both US and EU legislation, brewers can produce beers with sulfites content well below 10 mg L−1.
Beer Sulphur Compounds Analysis Service at Creative Proteomics
Based on highly experienced, Creative  Proteomics offers you a state-of-the-art platform for beer sulphur compounds analysis. And we aim to help customers identify the sulphur compounds in the whole process of beer industry. We have various analytical technologies for a wide range of beer sulphur compounds, including but not limited to:
Beer sulphur compounds can be analyzed at Creative Proteomics
1
Carbon dioxide
9
Ethyl mercaptan
2
Sulphur dioxide
10
Isobutyl mercaptan
3
Carbonyl sulphide
11
Isopropyl mercaptan
4
Diethyl sulphide
12
Methyl mercaptan
5
Dimethyl disulphide
13
N-butyl mercaptan
6
Dimethyl sulphide
14
N-propyl mercaptan
7
Hydrogen sulphide
15
Sec-butyl mercaptan
8
Methyl ethyl sulphide
16
T-amyl mercaptan
Creative Proteomics has been specializing in offering a set of services for beer sulphur compounds analysis, many methods are currently in use, varying in specificity and sensitivity, including but not limited to:
The colorimetric method
Flow injection analysis (FIA) methods
A chronopotentiometric methods
An enzymatic assay
Gas chromatographic methods
Ion exclusion chromatography with electrochemical detection
Voltammetric determinations
Our Advantages
Excellent for a broad range of sulfur compounds
Engineered to improve sensitivity and linearity at very low levels
State-of-the-art technology and instrument, such as gas chromatography coupled with the sulphur chemiluminescence detector
At Creative Proteomics, we can provide sophisticated analytical methods for beer sulphur compounds analysis. Our analysis program can be combined with other techniques of our expertise in the field, so the professional analysis of beer sulphur compounds can be easily obtained. In addition, our experienced scientists and advanced techniques enable us to deliver consistent and high-quality data with cost-efficiency. If you have any questions or specific needs, do not hesitate to contact us.
Reference:
1. Guido L F. Sulftes in beer: reviewing regulation, analysis and role. Sci. Agric. 2016. 73(2): 189-197.
Our customer service representatives are available 24 hours a day, from Monday to Sunday.
Inquiry