Analysis of N-terminal Truncation
---
Up to now, we know that the N-terminal truncation is one of resources of impurities in manufacturing, purification and storage, and it may affect the medical efficiency by changing the drug stability. So far, the scientists have improved that most proteins have N-terminally truncated proteoforms, originated from protein cleavage, alternative translation and alternative splicing. At the same time, alternative cleavage of signal peptides is also one reason for isoform generation.
Truncation of proteins is one of the most productive pathological modifications which often changes the subcellular localization of proteins, or causes accumulation of toxic truncated fragments at undesired sites, resulting in dysfunction of cell organelles, even cell death.
Most protein drugs are expressed by microbes or animal cells. However, these "cell factories" can express various proteases in addition to expressing exogenous protein drugs and proteases cut or break the N-terminus and C-terminus of proteins, resulting in N-terminal truncation. On the other hand, the N-terminus or C-terminus of many protein drugs harbors the binding sites of the drug target, just like the relationship between the key and the lock. Only by ensuring the integrity of the protein drug sequence, it is likely to exert its efficacy. So, making clear of N-terminal truncation is crucial to the production and preservation of protein drugs.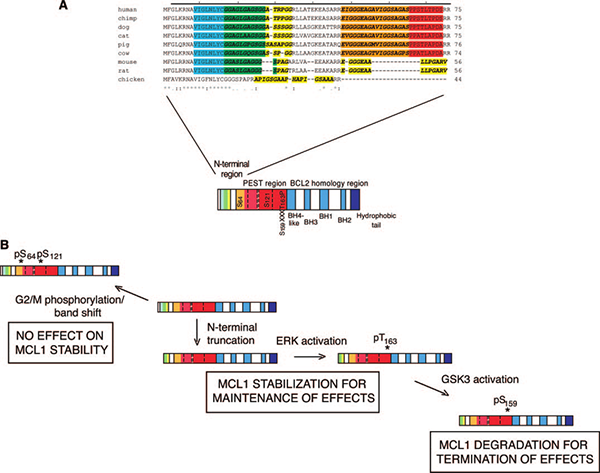 Figure 1. N-terminal truncation of ERK- and GSK3-modulated phosphorylation affects MCL1 stability
Analysis of N-Terminal Truncation at Creative Proteomics
Based on the N-terminal sequencing service, Creative Proteomics can help you analyze the N-terminal sequence of the protein therapeutics. Generally, we can provide 3 analytical approaches to characterize the N-termini of the proteins:
We use phenyl isothiocyanate to react with an uncharged N-terminal amino group, resulting in the release of amino acid one by one in the repeated circles. And these released amino acids can be used to verify the N-terminal sequence of the protein. This method is featured by few reaction by-products and the accurate identificationby chromatography due to quite high reaction yield and recovery of phenyl isothiocyanate with all amino acid residues.
Top-Down Analysis is first isolated whole proteins from complex biological samples, and obtains protein structure information through fragment analysis. For example, monoclonal antibodies can be ionized for subsequent analysis with MALDI-TOF or tandem mass spectrometry. In order to obtain accurate and precise m/z values and calculate the molecular weight of relevant peptides, we use high accuracy mass analyzer to detect the ionized proteins and corresponding fragmented ions. Because the primary sequence is known, it's easy to speculate the peptides with specific sequences. In protein drug analysis, it can be used for rapid method development of charge heterogeneity analysis, as well as peptide map sequence information verification.
Bottom-Up is a method for analyzing proteins after enzymatic digestion into peptides to obtain peptide maps. We can provide bottom up-based methods, like peptide mass fingerpriting and de novo sequencing to analyze N-Terminal Truncation. And with the help of high resolution mass spectrometry and proteomics databases available, the unknown peptides, especially the fragments from N-terminus can be mapped.
Creative Proteomics is a global Contract Research Organization (CRO) and has been a trusted partner to leading pharmaceutical, biotechnology and medical device companies as well as academic and government organizations for decades. We offer a series of mass spectrometry analysis utilizing state of the art facilities with our highly skilled staffs. Creative Proteomics is very glad to discuss your projects and figure out the optimal analytical workflow to characterize the N-terminal sequences.
Reference:
1. Paholikova, K., et al. N-terminal truncation of microtubule associated protein tau dysregulates its cellular localization. J Alzheimer's Dis. 2015, 43(3), 915-926.
Our customer service representatives are available 24 hours a day, from Monday to Sunday.
Inquiry