Alemtuzumab
---
Alemtuzumab is a recombinant and humanized IgG1 kappa monoclonal antibody, which is directed at and binds avidly to the human cell surface marker CD52 present on T and B cells, monocytes, macrophages and other bone marrow cells. When combined with cells expressing CD52, it can destroy leukemia cells by lysis of antibodies. Alemtuzumab is used to treat chronic B-cell lymphocytic leukemia or relapsing forms of multiple sclerosis. In 2001, the US FDA approved alemtuzumab for the treatment of chronic lymphocytic leukemia (CLL). In the past two years, it was mainly used for single-agent or combined with other drugs to treat initial treatment or CLL resistant to alkylating agents.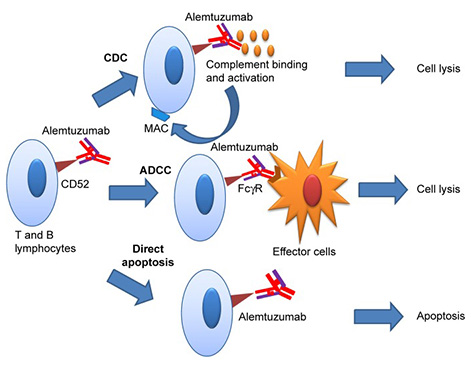 Figure 1. Alemtuzumab-mediated cytolysis and apoptosis of T- and B-lymphocytes
Alemtuzumab induces cell destruction and antibody-dependent cellular cytotoxicity (ADCC) by activating complement-dependent cytotoxicity (CDC), which causes the consumption of CD52-positive cells in vivo, and ultimately has a therapeutic effect. However, despite the apparent success of alemtuzumab, it has been shown to be significantly toxic due to the attendant immunosuppression associated with its use, particularly the increased risk of viruses and other opportunistic infections.
Alemtuzumab Biosimilar Analysis at Creative Proteomics
For Alemtuzumab biosimilar, Creative Proteomics has established an analytical testing platform to provide a full range of analytical services, including but not limited to analytical testing projects.
Table 1. Alemtuzumab Biosimilar Analysis
Test Items
Detection Methods
Structure
Sodium dodecyl sulfate polyacrylamide gel electrophoresis
Western blot
Amino acid composition
High performance liquid chromatography (HPLC)
Liquid chromatography-mass spectrometry (LC-MS)
Characterization
Amino acid composition
Glycosylation analysis
Disulfide bond analysis
Oxidation
Deamidation
Potency
Cell-based assays
Antibody-dependent cellular cytotoxicity (ADCC)
Complement dependent cytotoxicity (CDC)
Affinity or binding assay
Purity
Size exclusion chromatography (SEC)
Ion exchange chromatography (IEC)
Reverse phase high pressure liquid chromatography (RP-HPLC)
Capillary electrophoresis (CE)
Our Advantages
Experienced biosimilar experts and an excellent laboratory team dedicated to biosimilar analysis.
Advanced analytical instruments and analytical platforms committed to biosimilar analysis of the comprehensive functional, physical chemistry and structural.
A variety of detailed reports.
Based on advanced instrumentation, cutting-edge technology and an experienced research team, Creative Proteomics can provide professional alemtuzumab biosimilar analysis for customers. If you have any questions or specific requirements, please feel free to contact us. We will provide you with a satisfying solution.
Reference:
1. Dubey, D., et al. Intractable and highly active relapsing multiple sclerosis-role of alemtuzumab. Neuropsychiatric Disease & Treatment, 2015, 11(11), 2405-2414.
Our customer service representatives are available 24 hours a day, from Monday to Sunday.
Inquiry